Hidden Hills Offers You an Unforgettable Arnold Palmer Design
Our 6,892-yard public golf course at Hidden Hills Country Club was previously the site of the Greater Jacksonville Open, a tournament that eventually evolved into what is now the TPC Sawgrass. Among winners at our course were Gary Player, Tony Jacklin and Don January.
It's now an Arnold Palmer Signature layout, known for its intriguing curves and contours and rolling fairways, a setting that you don't often find in Florida. Our fairways are lined with majestic pines and oaks; our lush greens have won a name for Hidden Hills in North Florida.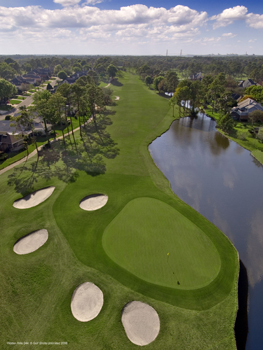 A lush setting of hills, ponds and pines awaits you
Standing on the first tee here, you could be just about anywhere except Florida. Carved into a hilly area that is the highest point on the map in the Greater Jacksonville area, Hidden Hills has elevation and rolling fairways that are rarely seen in the Sunshine State.
You're going to like our variety, a mix of one-third very long holes, one-third medium length holes and one-third short holes. Sharp doglegs, strategically placed ponds and elevated greens offer some great golfing adventures. And our five sets of tees work to even things out so that everyone loves playing Hidden Hills.
"The course sometimes teases you to use a driver, but the better play is to keep it simple and just put the ball in position," says Russ Libby, PGA Director of Golf. "From the championship tees, it's a true tournament course. But as you work forward on the tees, it eases up a little bit and the average golfer will have access to a wide variety of shots."
Here is a look at Hidden Hills, hole by hole:
No. 1 – 380 yards, Par-4 – "It's really hard to tell what state you are in from the first tee," says Russ Libby, Owner and PGA Professional. Stately pine trees — many planted back in the 1960s — run down the right side of the course. Longer hitters at Hidden Hills usually leave the driver in the bag off the tee because water on the left runs down to a double-tiered green that can have some interesting pin positions. It's best to fly it to the green instead of using a bump and run. Try to favor the left side as the best approach to a green that slopes right to left.
No. 2 – 415 yards, Par-4 – You're going to think about Donald Ross on this dogleg left with its tabletop fairway with drop-offs left and right. You'll be hitting between trees on both sides to an elevated green. While this is a hole where you can run your ball up to the green, you cannot miss left because it is almost impossible to get up and down. Most greens at Hidden Hills have plenty of undulation, and this is one of them.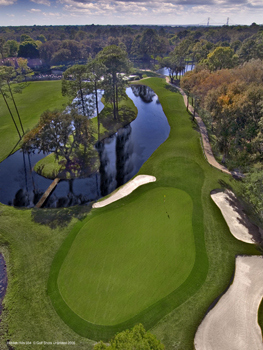 No. 3 – 435 yards, Par-4 – Watch out for the water down the left side that could make this a tough driving hole. Hook left and you are wet; if you go too far right, you'll be out of bounds. Accuracy down the middle is a premium on this hole. There is only a single grass bunker near the green on the right, and you are encouraged to stay left.
No. 4 – 541 yards, Par-5 – On this 90-degree dogleg left, most players hit an iron off the deck without a tee. "No matter what you hit, it's always the same distance – 250-280 yards – coming into the hole," says Libby. There are two lakes on this hole, one to the left and one on the right that comes into play on the second shot. Long hitters can sometimes make it in two. If you lay up, it's like having to hit a par-4 green in two shots. Watch out for the greenside bunker front left.
No. 5 – 184 yards, Par-3 – When you reach this very elevated green you'll be at one of the highest points in Duval County. Newly renovated in 2022, the green is protected by two large bunkers, one on the front and one in the back, and the expanded putting surface has been softened and cleverly shaped to provide a wide array of accessible hole locations. Club selection here is very important with the elevation changes and prevailing winds.
No. 6 – 499 yards, Par-5 – This is another sharp dogleg right, but that means it's possible for a long hitter to reach the green in two. But watch out for fairway bunkers that line the left side; the bunker farthest down the line has a pine tree in the middle that foils those who try to cut the corner. Pine trees and water guard the right side. A narrow landing area makes it tough to run this ball up on the green. Most players will lay up in two and hit a short iron for their third shot.
No. 7 – 181 yards, Par-3 – This is the most exciting par-3 on the course with water all the way. If you miss short, right or left, you are in the water.
No. 8 – 349 yards, Par-4 – On this, the most picturesque hole at Hidden Hills, you'll be hitting off the tee through a narrow slot through pines and oaks. There is a lot of Carolina feeling to this hole. Your second shot to a green with a bulkhead in front, is not for the faint of heart, especially if the pin is near that bulkhead. Keep an eye out here for wandering gators, although the staff works hard to keep them away.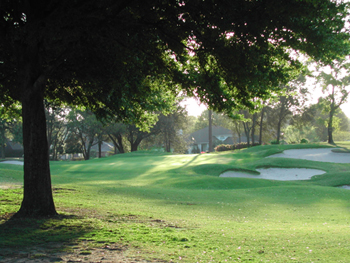 No. 9 – 388 yards, Par-4 – Fairway bunkers come into play as you head for the clubhouse turn, although most long hitters can carry them. Although tight, this is a driving hole for golfers of all levels. You'll be hitting to an elevated green guarded by a bunker on the left. If you come up short, a chip shot is out of the question and you'll have to hit a lofted wedge onto the green. As you've probably figured out by now, the lob wedge and the flop shot are weapons you want in your arsenal when playing Hidden Hills.
No. 10 – 392 yards, Par-4 – You're hitting off an elevated tee down to the fairway with water on the left. If the northeast wind is in your face, it becomes a tight driving hole because a hook puts you in the water, which runs up to the green. The putting surface is guarded by bunkers behind and to the right. To make par you'll need a high approach shot that lands softly.
No. 11 – 612 yards, Par-5 – Get ready to hit away. Hidden Hills' signature hole will require a 210-yard carry over water if you are hitting from the back tees. If the wind is in your face, you'll need a 230-yard carry; and if you are short, there's no landing area and you'll have to re-tee. But you're aiming at the widest fairway on the course, so you can step up and rip it. The lake guards a slightly elevated, island green. Try to get in position for a short iron to the green,which is fairly level.
No. 12 – 176 yards, Par-3 – The prevailing wind often dictates that you take an extra club on this hole, where water comes into play for the higher handicappers. It's a forced carry but there is room between the water and the edge of the elevated green, guarded by a bunker on the left side.
No. 13 – 385 yards, Par-4 – On this relatively short straightaway, water on the right is your main worry all the way to the green. A right pin placement can make this hole trickier because an approach that aims right goes into the water. Try to hit the center or left of the green, but if you have a right pin placement, be prepared for a long putt. Greenside bunkers guard the left side.
No. 14 – 429 yards, Par-4 – Another straightaway hole, but this one has a lone pine tree in the fairway on the right that can make for an interesting tee shot. Stay left of the tree or you will have to hook or fade around it. There is a single greenside bunker here, but it is strategically located. Stay to the left where you can put yourself in a good position for a cut shot. A northeast wind on this hole can shorten it, but a wind from the West will make it play long.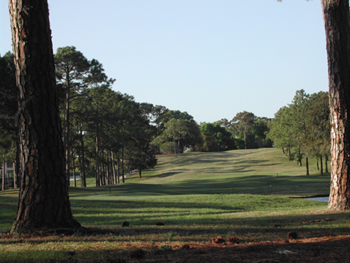 No. 15 – 535 yards, Par-5 – On this beautiful hole, you're headed uphill all the way and Palmer has made it a bit more exciting by putting moguls in the fairway. On a third shot, you are limited to seeing just half the pin; the entire hole doesn't come into view until you get close enough for a chip shot. Don't be long here because the back part of the camel-backed green slopes away.
No. 16 – 178 yards, Par-3 – This is another challenging par-3, where a missed green long or left will require a flop shot. Try not to be too far right or you'll be dealing with a greenside bunker.
No. 17 – 406 yards, Par-4 – The natural contour of the land means that this fairway slopes from left to right. "Because it is all natural, the hole has a great look," says Libby. Hit your tee shot down the left side and let it run to the right. Better players will hit a fairway wood or iron off the tee to position the ball. It's a gamble to use your driver.
No. 18 – 407 yards, Par-4 – Your final drive of the day takes you over a hill in the fairway so you won't be able to see where the ball lands. The smarter and better players will hit a fairway wood instead of driver. The well-mounded green can cause a problem if you are short. That's when the fun begins because putting over the hump in the middle will likely turn into two putts, with the second one from as far away as 10-15 feet.
Distances, ratings and slopes from various tee boxes: 6,892 yards (74.0/136); 6,653 (72.7/130); 6,237 (70.6/124); 5,745 (69.5/121); 5,016 (70.5/125).
Scorecard
| | | |
| --- | --- | --- |
| Tee | Rating | Slope |
| Gold | 74.0 | 136 |
| Blue | 72.7 | 130 |
| White | 70.6 | 124 |
| Green | 69.5 | 121 |
| Red | 70.5 | 125 |
| | | | | | | | | | | |
| --- | --- | --- | --- | --- | --- | --- | --- | --- | --- | --- |
| Hole | 1 | 2 | 3 | 4 | 5 | 6 | 7 | 8 | 9 | Out |
| Par | 4 | 4 | 4 | 5 | 3 | 5 | 3 | 4 | 4 | 36 |
| Championship – Gold | 380 | 415 | 435 | 541 | 184 | 499 | 181 | 349 | 388 | 3372 |
| Back – Blue | 369 | 407 | 402 | 525 | 176 | 485 | 171 | 328 | 374 | 3237 |
| Middle – White | 351 | 374 | 368 | 506 | 154 | 471 | 141 | 318 | 346 | 3027 |
| Member – Green | 330 | 364 | 359 | 465 | 138 | 425 | 131 | 288 | 336 | 2836 |
| Forward – Red | 303 | 313 | 316 | 413 | 97 | 413 | 83 | 254 | 292 | 2484 |
| Men's Handicap | 15 | 1 | 3 | 9 | 17 | 7 | 13 | 5 | 11 | |
| Ladies' Handicap | 9 | 5 | 7 | 11 | 15 | 1 | 17 | 3 | 13 | |
| | | | | | | | | | | | | |
| --- | --- | --- | --- | --- | --- | --- | --- | --- | --- | --- | --- | --- |
| Hole | 10 | 11 | 12 | 13 | 14 | 15 | 16 | 17 | 18 | In | Out | Total |
| Par | 4 | 5 | 3 | 4 | 4 | 5 | 3 | 4 | 4 | 36 | 36 | 72 |
| Championship – Gold | 392 | 612 | 176 | 385 | 429 | 535 | 178 | 406 | 407 | 3250 | 3372 | 6892 |
| Back – Blue | 385 | 600 | 169 | 374 | 412 | 527 | 163 | 388 | 398 | 3416 | 3237 | 6653 |
| Middle – White | 365 | 550 | 154 | 356 | 393 | 513 | 130 | 376 | 371 | 3208 | 3029 | 6237 |
| Member – Green | 351 | 458 | 140 | 330 | 352 | 465 | 100 | 355 | 358 | 2909 | 2836 | 5745 |
| Forward – Red | 326 | 413 | 110 | 272 | 310 | 420 | 79 | 299 | 303 | 299 | 2532 | 2484 |
| Men's Handicap | 4 | 2 | 16 | 10 | 8 | 6 | 18 | 14 | 12 | | | |
| Ladies' Handicap | 4 | 2 | 16 | 14 | 8 | 6 | 18 | 12 | 10 | | | |