General
Each player must have his or her own golf clubs and golf bag. Players must check in at the Golf Shop before teeing off.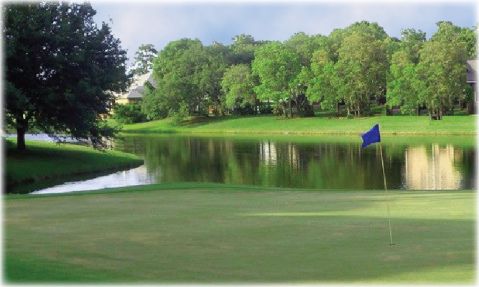 Restrooms
Restrooms are available at tee boxes on holes 4, 9, & 16.
Tee Times
Call (904) 620-0910 for tee times. Watch for our online tee time program, coming soon! HillsPass holders may make tee times eight days in advance. All other golfers may make tee times up to seven days in advance.
Rules of Play
Play on the course is governed by USGA rules, with the exception of any local rules posted in the Golf Shop. All PGA Golf staff are empowered to enforce golf course rules.
The golf course and shop may be closed at the discretion of the PGA Golf staff in the event of inclement weather.
Please stay on the car path on all par 3s; the rest of the course is 90-degrees. Upon reaching 30 yards from the green, please return to the car path. Please observe and avoid all protected, roped off or yellow staked areas.
Practice
When practicing, players are to use the practice area only. Under no circumstances are the regular tees, greens or fairways to be used as practice areas.
Golf Cars
Golf cars may be operated by anyone 16 years or older with a valid driver's license. Golfers will be required to pair up on Hidden Hills golf cars. No personal golf cars are permitted on the course unless the owner is a registered HillsPass holder.
Players are liable for any personal injury or property damage resulting from the use of a golf car checked out in their name. Golf cars are not to carry more than two riders and two golf bags at any time. Drivers must read the operating instructions on the golf car prior to usage and obey such instructions. No one is to operate a golf car with a flat tire, or any other mechanical failure that is apparent or observed. Club golf cars are to be returned to the staging area. Players must adhere to all golf car directional signs and keep golf cars on golf paths on par 3s.
Slow Play
Golfers are expected to complete an 18-hole round of golf in four or less hours and a nine-hole round in two or less hours. If a group of golfers falls behind the group in front, the slower group will be asked by the PGA Golf staff to pick up the pace.
Walking Policy
Walking is allowed beginning at 2 pm or at the discretion of the PGA Golf staff. All players must check in at the Golf Shop prior to teeing off. Golf pull carts are permitted at Hidden Hills.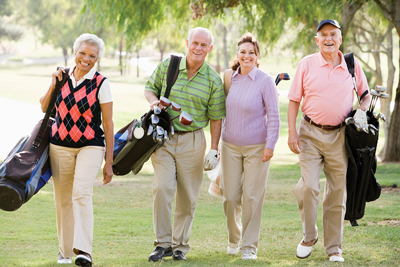 Dress Code
Men should wear shirts with collars on the golf course and practice areas; ladies may wear shirts with or without collars. Shorts for both should be of Bermuda length or a style made and designated for golf. Appropriate golf or athletic shoes must be worn on the course at all times. The following types of clothing are prohibited on the golf course:
Denim and denim jeans of all types and designs
Short-shorts, cutoffs or running shorts
Tennis shorts or skirts
T-shirts, tank tops and military camouflage
Course Etiquette
Please fill all divots with sand provided. Please repair ball marks and rake bunkers.
Junior Play
A junior golfer is age 6-17 years old. Juniors must be certified by the PGA Golf staff to play without being accompanied by an adult. Under no circumstances is a child under the age of 10 permitted to play the course unless accompanied by an adult.
Fivesomes
Fivesomes are permitted at Hidden Hills at the discretion of the PGA Golf staff. Fivesomes must complete 18 holes in four hours or less. If a fivesome is timed at more than a two-hour pace for nine holes, they will be asked to split up. In case of groups with less than four players, the starter may ask to fill the group with other waiting players.
Non-Golf Use of the Golf Course
Fishing and wading in the lakes and ponds, and looking for balls other than your own are strictly prohibited. Jogging, biking, roller blading, scooters, walking and any non-golf sports activities are not permitted on the course. No pets, leashed, attended or unattended, are permitted on the course.
Beverage Policy
Personal beverages or coolers are not permitted on the golf course at any time. All beverages must be purchased from the beverage car attendant, Troon Room, or Golf Shop. Beverage car attendants accept cash and credit cards.
Hills Grill
The Hills Grill is open seven days a week with lunch service from 11 am to 3 pm and beverage service until 7 pm. Casual dinner is served on Fridays from 6-9 pm.