The Wedding You've Always Dreamed of Comes True at Hidden Hills Golf Club
You've been thinking about your wedding for years, what the color scheme and the flowers will be like, what music will play as you walk down the aisle, who the bridesmaids and groomsmen will be and maybe even what flavor of cake you want. But don't forget one of the most important ingredients in your special day – the location.
Hidden Hills Golf Club is one of the most romantic and outstanding sites for weddings in the Greater Jacksonville area. Lush landscaping with statuesque oaks and pines surround our clubhouse. Our open-air balcony overlooks the picturesque lakes and velvety green fairways of a legendary golf course, and our spacious clubhouse offers flexible space for large and small wedding ceremonies, receptions and nuptial-related events. We have gorgeous outdoor settings where you can be married either under a tent or in the open air.
Whether it's an intimate affair for 50 or a grand reception for 300, we can prepare an elegant space to fit your guests comfortably. Our St. Andrews (capacity-175) and Muirfield (capacity-125) rooms open into each other and can be combined with our beautiful outdoor patio space as well. The Muirfield has a permanent dance floor where you can provide dancing and music for your guests.
Click here or call (904) 641-8121 ext 111 to inquire about your private event today.
Both rooms have large glass windows with lush, 360-degree views of the landscape, including our 18th green, and the practice putting green. Our experienced and attentive staff will work with you to make every aspect of your wedding or reception the best it can be. Our professional event coordination services are included in every wedding or special event, and can help you save money as well as add the kind of personal touches that make your event uniquely your own.
We offer a large selection of tantalizing wedding menus for every taste and budget, or our talented Chef can customize a menu to suit your dietary restrictions, theme, or personal palate.
Hidden Hills Golf Club is your one-stop bridal location with availability for bridal showers, luncheons, rehearsal dinners and even groomsmen golf outings. How about a massage to ease out those pre-wedding jitters? We have licensed massage therapists available to do just that for the bride, groom or anyone in the wedding party!
Click here or call (904) 641-8121 ext 111 to inquire about your private event today.
For more photos, and for reviews by satisfied brides and other clients, visit our Wedding Wire listing by clicking here. Click the links below to download our Banquet Guide with menu options and event planning guidelines.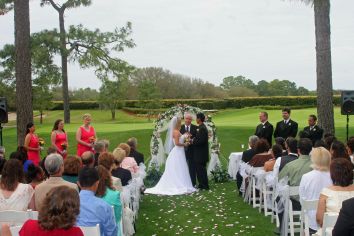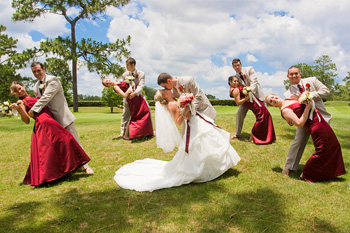 We are the proud recipient of a Bride's Choice Award for wedding and reception venue! Call Russ at 641-8121 ext. 111 for information on making your next special event memorable!